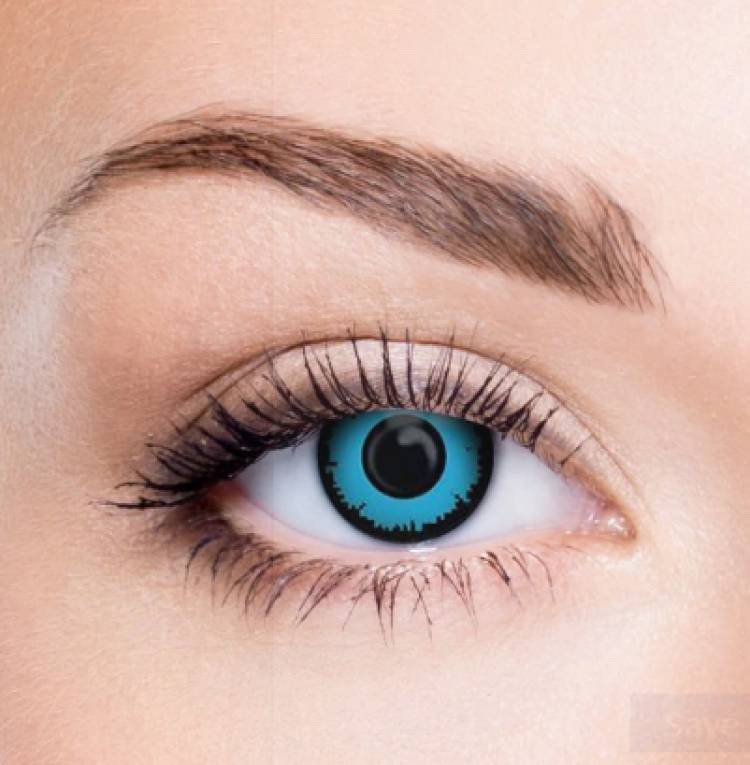 Halloween Contact Lenses for Theme Parties
Halloween eves call for a fun night with friends and family. But it isn't typical fun or dinner; it has a lot more to it. Halloween is all about thrill, pranking and haunting each other, as well as the ghosts. So, there is no way you can dress up in your everyday attire or have a candlelight dinner. On this occasion, you need to get out of your comfort zone and spread your charisma by donning a unique costume and putting on the wildest Halloween contact lenses.
If you want your eye colour to look different and captivating, put on the most enthralling Halloween contact lenses according to your choice and recreate the look of your favourite character. If that is too specific, you can put on lenses according to the theme and colour combination of your party as well.
---
Factors to Consider
---
Here are some other factors that can help you choose the best colour of Halloween contact lenses.
Daytime and night time calls for different types of outfits and themes. Along with that, lightning and temperature also change dramatically in the morning and night time in October. So, choose the colour of your Halloween contact lenses by keeping the night time, lights are dim so you can go for freaky and creepy contact lenses and haunt people. Blackout contact lenses or blind white and twilight breaking dawn contact lenses are ideal choices for night time events.
The theme of your party is of the most paramount significance when it comes to choosing a costume or eye colour. If the theme of your party is something light and casual, then wear natural and warm coloured contact lenses. But if the theme of your party is somewhat freaky then without any second thoughts put on the boldest and creepiest Halloween contact lenses. If you have a barbeque night planned, be careful while wearing lenses, as going near the fire and ashes won't be safe.
Always consider the type and age of your guests and play your dress up game accordingly. If your guests are all friends and you are in your teenage or twenties, go as wild as possible. Wear bloody red, zombie or devil contact lenses and play pranks on each other. But if your guests are over the age of 60, or under 5, avoid wearing Halloween contact lenses that create a frightening impact. Whiteout lenses, black full eye sclera lenses are not for the weak-hearted people, so be wary of your guests and audience if you want to have fun.
It is essential to consider the location before you plan to wear Halloween contact lenses. You can wear nude and earthy tones if you are having a party at home. In the same way, you can try wearing blind white, full black or red contact lenses if you have haunting theme parties planned outside at night time. In case you have a barbeque planned on your balcony or a pool party in your dream pool, you should refrain from going near the fire or water.
---
Halloween Contact Lenses According to Your Theme
---
Half of your work is already done if you have decided on the theme of your party. Now all you have to do is pick up a costume accordingly and figure out what colour Halloween contact lenses will suit them the best. You can either choose them concerning the character or colours and tones of your theme.
Stand out this Halloween and opt for an all-white theme! Host your party in a small place so that you can easily transform your interior. Coming to you, you need to pull an all-white outfit and paint your face and hair white. Add the final touches to your enthralling look by wearing blind white or whiteout contact lenses.
Are you all set to scare your siblings and friends? If yes, then on this Halloween wear a zombie costume and polish your look by applying white paint to your face. Does it feel incomplete? Well, finish it off by wearing red, white, or twilight breaking dawn contact lenses.
Glow parties are the core of Halloween eves. You can make everything neon and wear neon outfits and vibe in. it would be even great if you put on neon coloured contact lenses. In case you don't have access to them, red or icy blue lenses will do the work as well.
Suppose all you want to do on Halloween is dance, then dance till you break the floor! Wear sparkling maxi dresses and put on black coloured face masks. To enhance your look, wear green or blue coloured lenses and spread your magic. Don't forget to add some glitters to your face.
If you are the edgy and cool group, stick to Ghouls Night In and play board games and drink wine all night long. But don't forget to dress up accordingly. Style up in grunge-inspired outfits and put on full eye coverage black contact lenses. Finish off your look by painting your face in black and white colour.
Jack o lantern and pumpkin carving are the most popular themes of any Halloween party or carnival. If you have planned to go with this theme, gear up in orange costumes and put on yellow, red or blackout contact lenses to brush off your look.
---
Tips for Wearing Halloween Contact Lenses
---
If you are planning to wear Halloween contact lenses, take care of a few things. Do not let makeup, glitters and paint stick to your lenses at any cost. Also, avoid going near the fire and water. Moreover, you should also refrain from wearing them for more than 8 hours. Lastly, make sure you take them off carefully and clean them with the solution before you go to sleep. And in case your cases are one-day use only, dispose of them as soon as you take them off.