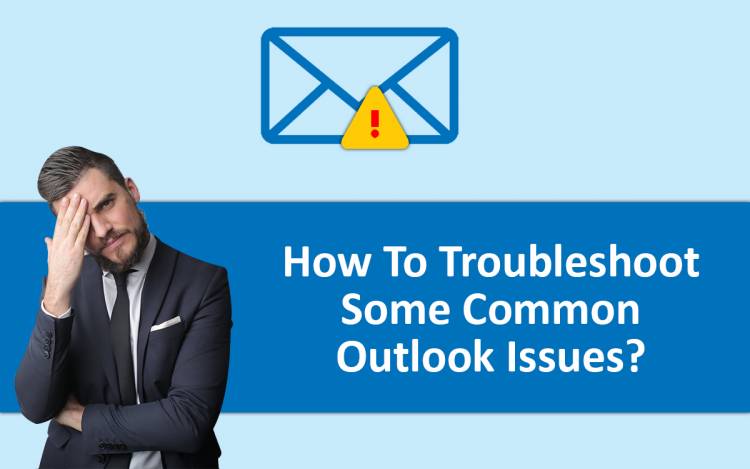 How to Troubleshoot Some Common Outlook Issues?
MS Outlook is one of the most used email clients in the world. It offers you an excellent opportunity to access your different email accounts from a centralized location. While the MS Outlook benefits list is vast, instances might occur when you encounter errors while using it. This can really be frustrating, especially when you need urgent access to your emails. To resolve these issues, there are certain effective ways by which you can ensure the continued functioning of Outlook and fulfill your emailing requirements. Read on to explore them and unleash the true potential of the world's leading email client from Microsoft.
---
Some Common Outlook Issues and Their Fixes
---
Here's a detailed overview of some of the common issues users often encounter while using MS Outlook:
Issue in sending and receiving emails:

Instances occur when users fail to send or receive any emails on MS Outlook. In such cases, check if the recipient's or your email address is mentioned correctly. At times, advanced MS Outlook versions recognize any incorrect email address and accordingly inform the users that the destination address is not found.
The issues related to Outlook 365 not receiving emails often trigger because of sending an HTML-based email with formatting issues. To resolve this, you need to change the HTML format to a plain text.

Outlook is sending spam emails:

One of the common reasons that leads to this error is presence of virus or malware in your computer. Besides, account hacking can also be another cause that your MS Outlook is sending spam emails to contacts. So, apart from running a thorough virus scan of your computer, change the password of your Outlook account. Also, inform your contacts about the issue so that they ignore the spam emails received from your email address.




Outlook stops responding on the profile page:

This is one of the most common issues in MS Outlook. With prolonged use things like notes, emails, calendar entries, attachments, etc. keeps accumulating in the Outlook PST, which makes it extremely large in size. With the increase in size, it gets more complicated to work with Outlook resulting in occurrence of numerous errors. To resolve this, you need to reduce the PST file size of Outlook. Here's how you can do that:
Remove everything that results in bloating up of the PST.

Locate any folder that is over 100 Kb in Outlook.

Remove all the unwanted emails, especially the ones that have multiple or large-size attachments.

If an attachment is really very important, download and save it to your hard drive.

Delete every unwanted email and remove them from the Trash folder as well.

You can also archive the emails by year which will save a large storage area on your disk.
---
Additional Troubleshooting Methods To Resolve Outlook Issues
---
Now that you have read some of the effective methods by which you can resolve some of the commonly occurring issues of Outlook, read on to explore some additional troubleshooting methods to resolve any issues on Outlook. To start with, scan the PST file which often triggers issues in Outlook. You can run scanpst.exe against each PST file of Outlook and check if the issue is resolved. Although the scan PST can consume some time, it is one of the most effective ways to resolve any issues of Outlook.
The next solution for Outlook issues is renaming OST. To do this, close MS Outlook on your computer, open the folder that has the Outlook data files, and change the .ost extension to something like .old. When you reopen Outlook, the process will rebuild the .ost file and you won't notice any hindrances while using Outlook.
---
How To Resolve if Outlook Rules Aren't Working?
---
If you have turned on the Outlook rules and you notice that they are not working, it indicates that the rules have corrupted. In such cases, you can follow the below-mentioned troubleshooting methods to resolve Outlook rules not working:

Reset the SRS File:

Instances might occur when the SRS file of Outlook is corrupted. In such cases, you will notice that the Outlook rules aren't working. However, you can resolve this issue by resetting the SRS file. Here's what you need to do:
Navigate to C:\Users\%username%\AppData\Roaming\Microsoft\Outlook

Rename

the Outlook.srs file to Outlook.srs.old

Restart Outlook to recreate the SRS file.
Remove and Recreate the Rules:

Another effective way to resolve any issues with the Outlook rule is to remove and then recreate it. Here's how you can do this:
Exit from MS Outlook and click on the Start Menu.

In the search bar, type "exe/cleanrules" and wait for the search results to appear on the screen.

Press the Enter key once the exe/cleanrules command-line switch is found.

Now, use the Rules Wizard to recreate the Outlook rules.
So, these are the various ways you can resolve some of the common issues of MS Outlook, such as rules not working in Outlook 2016, issues sending and receiving emails, Outlook sending spam emails, etc. Follow them the exact way to ensure a seamless flow of communication through emails on Outlook.