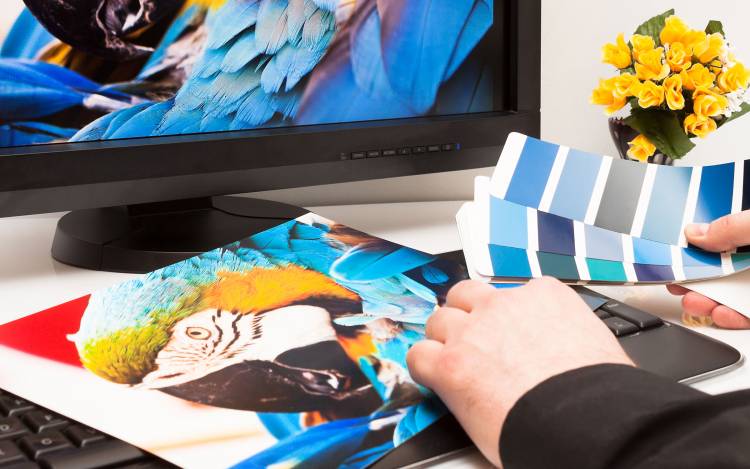 Facts About Digital Printing Technology And Its Advantages
In the past, having professional prints made, such as those of a business card or marketing flier, was costly and time-consuming. Small businesses learned to minimize the amount of printing that was required in order to keep costs down. Now, the playing field in printing has totally changed.
With the advent of digital printing, a design can be printed in a matter of moments once it is uploaded to a machine that is connected to a digital printer. A far cry from the days of the printing press, some businesses can now even print their own marketing materials from a home printer.
Though, this may not be a good way to go in order to produce truly professional-looking documents. A commercial print shop can offer the best quality of prints with Digital Printing.
Digital Printing has various advantages as compared to traditional printing methods. While older methods only used four basic colors to color match a proof, digital has a virtually endless array of colors to choose from, nearly guaranteeing a perfect match.
In addition, since a digital print takes so much less time and energy, not to mention resources, the cost is much, much lower. This has allowed companies who previously would not have been able to print much to be able to obtain professional-quality prints at reasonable prices.
Additionally, prints can be made in shorter runs than traditional printing. All of these things add up to make this a virtually unbeatable option for businesses today.
---
Digital Printing and Its Use On Promotional Items
---
The digital printing process includes computers to customize and automate the print process. A file is translated directly to printing tools, which recreates the file on the promo items. This helps in easy accommodation of different files without high overhead costs.
A printer takes the input from the computer control system and prints items on demand. This describes the process but does not do justice to how digital printing can benefit the marketer.
By using digital printing, a company can combine static and dynamic elements of marketing media into one print process. Using a printed postcard!
A single print run will create a card that features both the standardized marketing message and customized elements like an address block. Printing digitally makes it faster and more convenient to create high-quality marketing collateral.
---
Promotional Items That Feature Full-Color Digital Printing
---
Customers order a variety of items from promotional vendors, and since digital printing has become more popular, these vendors are using it with more of their products. Full-color keyrings are inexpensive promos that can be imprinted.
Printing digitally is also a popular way to create business cards, promotional calendars, and magnets advertising a company. One of the newest promos to feature this style of printing technology is a USB drive shaped like a business card. The drive is integrated into the card and flips out to insert in a computer USB port.
The personalization aspect provided by digital printing allows vendors to create promo products like water bottles featuring a full-color image and the name of the recipient.
Customers provide an Excel file of names used during the one-step printing process. Individual name recognition makes a huge marketing impact on prospects and customers.
---
Full-Color Digital Printing is Ideal For Fabric Surfaces
---
Full-color printing can also be used on other mediums like mousepads and t-shirts. Fabric surfaces are ideal for

digital apparel printing

.
Fabric-coated mouse pads have a comfortable feel, and with a company name or logo printed on them in full color, they are also very attractive. A white t-shirt with a full-color imprint created digitally is designed to capture attention.
---
Advantages Of Digital Printing Technology
---
1. Clear Images With Good Quality
The images printed by digital printing technology are much more clear and crisp than they would have been with traditional printing.
In today's highly competitive world, visual appeal is always important, and in fact, is how most consumers for their first impression of a company
2. Low Cost
Fortunately, we have digital printing technology that can help us in creating a good first impression at minimal costs! Digital prints can be photo-quality, and in fact, some commercial printers are even used to print photos.
A digital process includes little to no setup or proofing costs, allowing the printer to create thousands of printed items in a short time at low per-piece costs. A full-color print technology makes all items equally appealing, and printers can move between jobs with ease, streamlining production, and allowing them to retain additional profits due to higher rates of productivity.
3. Environmental-Friendly
Along with cost savings and design advantages, Digital Printing is also one of the most environmentally friendly printing processes. Because of the low rate of usage of resources (including paper, ink, toners, and the like) and the low rate of waste in a given printing job, little goes in the trash.
Because images can be transmitted digitally (via email, for example), the paper is not wasted on countless proofs and trials; the job is usually done the first time correctly.
4. Customize Promotional Items
There are many different ways to customize promotional items, and digital printing has become very popular. Experts note that over the past ten years, digital print has revolutionized the direct marketing industry.
It has not hurt the promo products sector either because customers constantly request products requiring the technology of printing on items like key rings, calendars, magnets, t-shirts, and even water bottles.