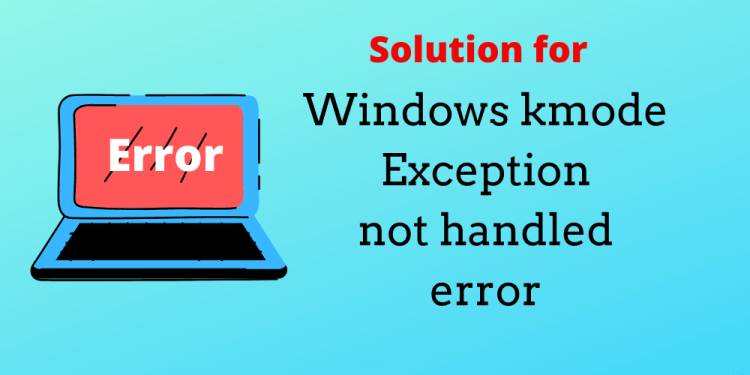 Kmode Exception Not Handled Errors (BSOD) And Possible Ways To Fix Them
Window 10 users often encounter an error message as a blue screen of death (BSOD), which degrades your system's operation. Generally, the error is specified as "KMODE_EXCEPTION_NOT_HANDLED" and happens mainly due to some driver issues.
Common BSOD errors include nvlddmkm.sys blue screen error, igdkmd64.sys blue screen error and SYSTEM SERVICE EXCEPTION Blue Screen Error, etc. Generally, the BSOD problem appears along with an error code, which helps determine what kind of trouble the system has with the hardware.
Windows display the problematic driver that crashes your system by its name. You can also manually diagnose that driver and disable/update it accordingly. Here, we introduce some practical ways to fix the Kmode Exception Not Handled Windows 10 errors.
---
What is Kmode Exception Not Handled?
---
Kmode Exception not handled is a system crash that happens when a Kernel Mode Program is causing an exception, which the error handler cannot identify. Usually, there will be an error code 0x0000001E, and sometimes the system falls into the loop reboot.
---
A quick fix to Kmode Exception Not Handled Error
---
This BSOD error exasperates users to the point where they almost give up on their systems. This issue can still be fixed, and users need not worry about their expenses spent on technical experts and their assistance.
You can fix the Kmode Exception Not Handled Windows 10 by following the different methods given below. You need to make sure that you follow the instruction given for each technique carefully, without leaving any step in between.
---
Method 1: Fast Startup – Turn Off
---
Windows fast startup feature helps users to set their startup preferences. It's available for Windows 8 and Windows 10 systems, which works similarly to the previous Windows versions' hybrid sleep mode. The fast startup can make your computer boot up even faster by saving the operating system state to the hibernation file.
When there is trouble reloading the drivers, kernel, and system state, the fast startup can also cause a system crash. Sometimes, BSOD error occurs as Kmode Exception Not Handled error.
First, you need to click Windows + R key and input Control Panel and hit Enter. Search for Power Options and Click Choose what the power buttons do. After that, click on, change settings currently unavailable, and then Click the choice Turn on fast startup. Now, click 'Save changes' and exit. You can now restart your computer and check if the Kmode Exception Not Handled

error has been resolved.
---
Method 2: Device Drivers needs Update
---
Kmode Exception Not Handled error could be because of the outdated device drivers. You can choose to update the driver in Device Manager manually. You can also automatically update it with a driver updater.
---
Update driver in Device Manager:
---
First of all, click on the 'Windows + X' keys and then choose Device Manager. Locate the other devices and right-click to update the driver. Search for updated driver software and wait until the results are there. Please take note if the driver is compatible with your system.
---
Update the driver with a driver updater:
---
A driver updater is essential to help automatically update the outdated drivers. Driver Booster, a driver tool, helps update more than three lakh device drivers and effectively fix common driver issues. You need first to run the Driver Booster and wait for the scanning result. Now, update all the drivers. After the updation process, you can restart the computer and check if Kmode Exception Not Handled error has been repaired.
---
Method 3: Run Memory Diagnostics for Windows
---
Windows Memory Diagnostic is a system memory test that helps you check the computer's RAM for issues. There will be a status bar during the test process, showing you if the problems have been detected. Also, the Windows Memory Diagnostics can help check the Kmode Exception Not Handled error.
To fix this error, you need to first open the Windows Memory Diagnostics through searching from Windows 10 search box and click Restart Now, and then check for problems.
---
Method 4: Let Windows Fix Itself
---
Windows can repair itself. Windows can figure out what's wrong with the system and try to fix it using the SFC Scan. It examines every Windows file to see if it's working correctly. It might also work to get rid of the Kmode Exception Not Handled error.
To do that, you need to follow the steps given below:
First of all, open the Command Prompt. You can do that by pressing the Windows Key + R simultaneously and typing cmd in the box that shows up.
Another way to do this is to press Windows Key and type cmd into the search box. Type in the command SFC/ scannow and press Enter.

Once the process is completed, restart your computer. Check if the problem is resolved successfully.
---
Recover Unsaved Data after Kmode Exception Not Handled error
---
Kmode Exception Not Handled occurs so suddenly that you lose your data in no time. If you haven't saved your data while working, then the error may probably have deleted it. You can recover your unsaved data using the Recoverit Data Recovery software application.
To recover your lost or unsaved data, you must first download the application and launch it on your system. Now, double-tap on the Recoverit option and follow the steps below:
Select a location: Firstly, choose a location from where you lost your files under the 'Select Location' tab in the 'Devices' tab. Now, click on the 'Start' tab to start the process. If you know the lost data location, you can 'Select folder' in the 'Select Location' tab.
Scan the Location: Recoverit will initiate the thorough scan as soon as you click on the 'Start' tab.

If you look at your lost data files, you can pause or stop the process at any time during the scan.

Preview and Recover: Recoverit allows you to get a preview of all the files that features file size, file type, date modified, and more. When you are sure of the files you want to recover, click on the 'Recover' button.
Kmode Exception Not Handled error is not an unsolvable problem if you know the source of the issue. The solutions mentioned in the blog consider some of the factors that may be causing the error. It also says the possible solutions to it.