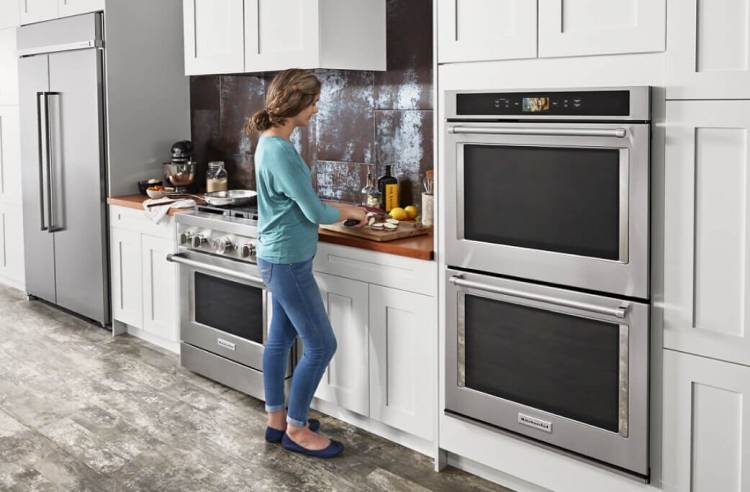 How to choose the best double wall oven?
A fancy kitchen
Kitchens are the heart and core of a home. A spacious kitchen with open space and adjoining dining room is all that a person wishes to have in his beautiful house. The architecture & flooring, the types of tiles used, the choice of carpet, the shelves, the sink, the cabinets, and the appliances together make up an appealing kitchen.
When you are hosting a party at your place and wish to entertain your guests while working in the kitchen, you would want to cook delicious food speedily. You will also make sure that the kitchen looks as elegant as you. The interior of the kitchen and appliances will make it look stylish. A double wall oven in the kitchen will solve both purposes.
You need to set different temperatures and cook time for different dishes. These ovens can align vertically against each other, providing you with more cooking space and will help you in cooking swiftly. Cabinets with the best double wall oven will give a luxurious look to your kitchen. These ovens are sleek and stylish looking which makes them a good fit for the cabinets. Their positioning is at eye level that makes them easy to work on. Now, there is no need to bend for putting the heavy dishes in the oven. You can also keep a constant check on the food from afar.
A guide for choosing the best double wall ovens
There are certain things that you would want to consider before buying a home appliance. Firstly, it should match up to your family size requirements. It should also beautify your house and should fit your budget. Before you finalize your purchase make sure that the best double wall oven should tick the following checkboxes.
Look for details
Almost all the Top-rated double-wall ovens will produce a cooking temperature of around 500 Fahrenheit. So, the power and temperature capabilities should not be an issue while purchasing. You must consider the extra cooking options that the oven is offering. The convection element and convectional fan, the broiling feature, baking and roasting feature, setting up of dual temperatures are some of the features you can look for in your double wall oven.
Size and Space
The size of a double wall oven should be in accordance with the availability of space in your kitchen as it takes a lot of space for installation. The standard sizes available in Top-rated double-wall ovens are 24, 27, 30, and 36 inches in width with 30 inches of length. If you are replacing your oven, you need to be sure of the exact size of your cabinet.
Capacity
Double-wall ovens provide you with the extra space of cooking whooping meals for your friends and family. Best double wall ovens hold a capacity of around 5.1 cubic feet and even more. You should think about your family size and your cooking requirements before purchasing it.
Warranty and Reliability
The robust brands of Top-rated double-wall ovens will provide you the best quality products with a warranty accounting for a long period. As you will be investing a huge chunk of your money in this appliance you need to confirm the customer services that the brand or the seller will be providing.
You should also peep into the customer reviews as these reviewers will provide you with first-hand information about the brand and its product.
Visual Aspects
As double wall ovens are huge, they capture a lot of attention even from a distance. They need to look clean and modish. There are various vibrant options available, such as stainless steel finish, and bright-colored red, orange, blue, or stainless black. These can be matching your cabinets to give a perfect look to your kitchen.
Design and Features
The latest double wall ovens have a touch screen system. You can also choose among the physical key knobs and the ones that have a combination of both touch screens and keys. Smart double wall ovens can function smoothly with syncing to your mobile phones. But you should also consider the durability of the oven so that it can solve its purpose proficiently and that too for a long time.
Door style
Double-wall ovens are available with two kinds of door options, namely, pull-down doors and side-opening doors. Pull-down doors are the most durable and traditional designs you can see in an oven. Side-opening doors provide more convenience of doing the work. It would be just like opening the refrigerator's door.
Clean-up
Kitchen appliances require regular clean-ups to ensure that the food is hygienic and clean. There are self-clean-up double wall ovens available in the market. They raise their temperatures to a very high level so that the stuck food particles can burn down. These ovens are easy to clean but can release hazardous fumes. Manual cleaning and steam cleaning are the best ways to clean up your double wall oven
Conclusion
Double-wall ovens are the most flexible and useful kitchen appliance. You can easily install it on any wall or cabinet in your kitchen. It enables you to cook more quantity of delicious food in less time. These ovens have many facilities that will make your domestic life easier.