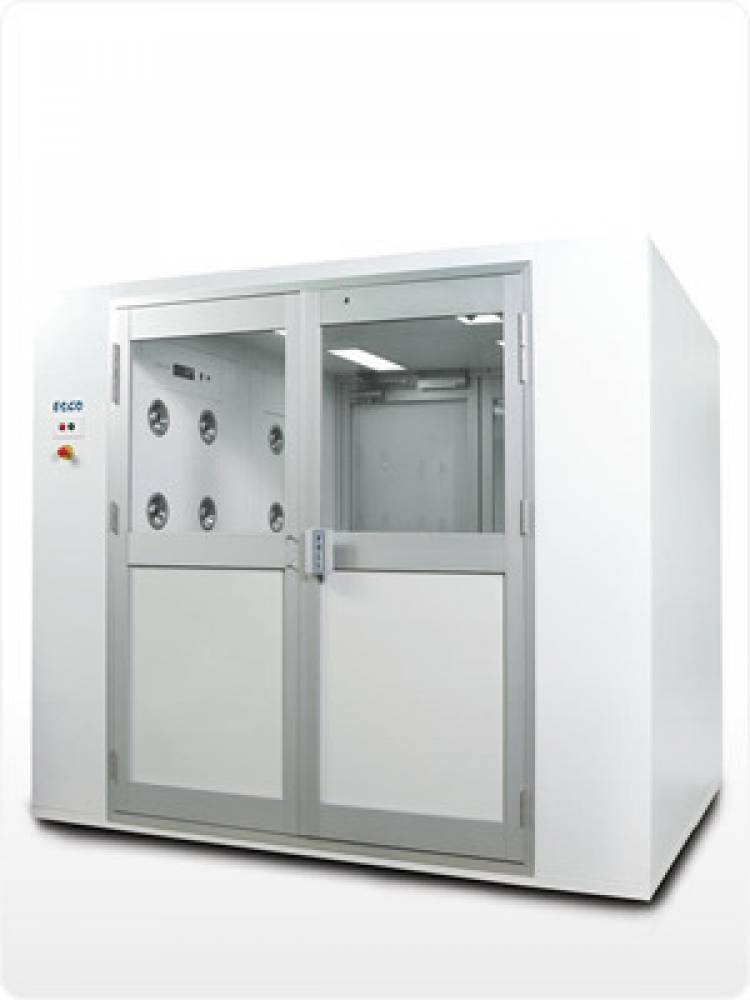 AIR SHOWER CABIN - ABOUT, APPLICATIONS & FUNCTIONING
Air shower, offer a fast and efficient way to reduce dust contamination of workers' clothing when entering or leaving a controlled area. The air shower tunnels are protected passageways that allow large numbers of personnel to travel quickly in controlled areas. The air shower is a necessary step for the person to enter the clean room in order to minimize the amount of contaminating particles, achieve strict standards of cleanliness in the workplace. Personnel move through the air shower while particulate contaminants are expelled by high-speed clean air.
Air showers and feed tunnels provide high volumes of dust-free recirculated air, to release contaminants from personnel, while they stand or walk through the chamber specially built for it.
---
CONFIGURATION:
---
Made of stainless steel, glass door with automatic door closers, adjustable nozzles, interior lighting and a very low DBA value as it is soundproofed and has a circular acoustic silencer. And more features given below:
Photoelectric sensor, automatic blowing.

Designed with circulation wind to facilitate cleaning of the shower area under the state of no shower.

Doors with double laminated glass visor.

Double doors with electric interlocking.

Open-closed indicator lights and door unlock button.

Doors with continuous perimeter joint.

LED display with adjustable blow time (0 ~ 99s).

HEPA filter, cleaning class 100.
---
FUNCTIONING:
---
Air flows through directional pressure nozzles at speeds of up to 10,000 feet per minute. Clean, high-speed, dust-free air provides efficient cleaning action to remove particles from work clothes and personal protective equipment.
The contaminants are directed down the air through the grilles and hollow walls of the air shower and then that air is filtered through HEPA filters and recirculated.
When the cabin door is opened, the vacuum fan starts up, the person with contaminated work clothes enters the shower and presses a key to open the passage of pressurized air, then the operator turns on his own axis to let the blow cleaning cover all parts.
---
APPLICATIONS:
---
As main cleaning applications stand out in the following sectors: plastic, recycling, chemical, pharmaceutical, ceramics, cement, food, grinding, power production plants, waste incineration, mining, etc.
The Yatherm air shower is designed to minimize the introduction of possible particles to the clean area through the user's clothing, quickly and safely. It consists of nozzles located in the interior perimeter, which ensure a complete sweep of the entire interior of the cabin. Yatherm manufactures the air shower cabin (Dusting Cab) to eliminate compressed air hoses, still used by operators in many industries to clean themselves after performing some operation or some type of maintenance in breach of the rules of hygiene and safety of work.