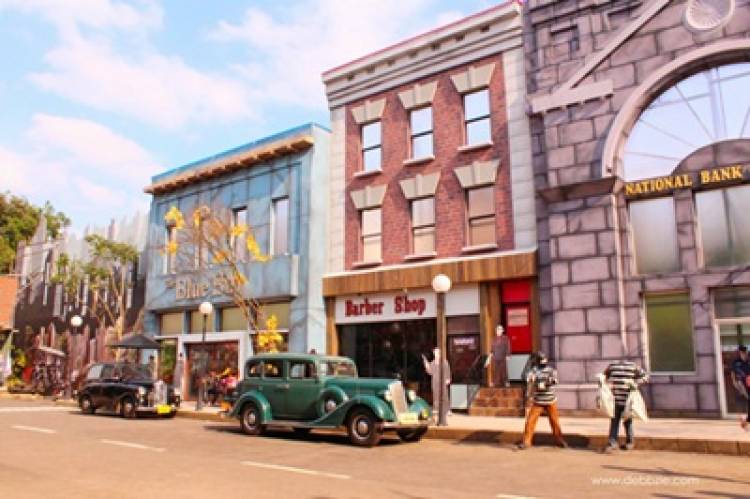 Tourism Information Malang Night Paradise Malang East Java
Again and again Malang provides spectacular tourist attractions that are malang night paradise malang city of East Java. One of the tourist attractions that has been opened since mid-2017 and developed by PT Adikara Citra Abadi. The tourist attraction is a park that is one location with Hawai Waterpark. The concept owned by this tourist park is similar to Jogja Kembali Monument.

A garden that looks artistic because it combines art, technology, and education that looks perfect. The tourists who want to visit the tourist attractions malang night paradise Malang East Java will not be difficult to find the location. Here is the location and also the route of malang night paradise tourist attractions are fun and full of education. With travel malang surabaya

Location And Route To Tourist Attractions

One of the spectacular tourist attractions in Malang is located in Graha Kencana Housing No. 66 Karanglo Balearjosari Village, Blimbing District, Malang City, East Java Province. The location is very accessible as it is located on a pretty crowded main road.

Route to this location when using public transportation or city transportation choose a transport coded CK. If you meet Lieutenant General Sunandar Priyo then stop at that road. Then choose city transportation with code AMH/AMG and stop at Simpang Suroso. It doesn't just stop there.

The trip is continued by riding a public transportation with the code of a train and stopping at karanglo highway to reach malang night paradise city of Malang, East Java. If from Arjosari Terminal choose public transportation coded LA / KA. and stop at Karanglo Highway and continue on foot to the location.

Malang Night Paradise Opening Hours and Admission Prices

To be able to enjoy the beauty of malang night paradise malang city of East Java, tourists can come from 05.00-11.00 pm. If you want to get an interesting and spectacular view come at night, it is better. The price of admission offered is also standard not too expensive.

On weekdays or Monday-Friday the entrance ticket price is Rp 30,000/person and weekend or Saturday-Sunday the ticket price is Rp 40,000/person. If you want to get a lower price by enjoying various rides, it is better to choose a pass. However, the price offered is different.

For Monday-Friday Rp 75.000/person and Saturday-Sunday Rp 85.000/0rang. During High Season the ticket price becomes Rp 95.000/person. If you bring children under 85 cm tall then the child does not need to buy a ticket aka free.

Interesting Rides In Malang Night Paradise Malang, East Java

After knowing the complete information about the location, route, opening hours, and price of admission, there are some interesting rides to try. This beautiful and amazing ride can be enjoyed by all visitors who come. Here are the interesting rides in malang night paradise:

1. Dancing Water Fountain

The attraction when entering this tourist attraction is the colorful fountain. The fountain emits water of a different height equipped with colorful lights.
In addition, there is a musical accompaniment that sounds so that it adds to the beauty of the fountain. There are 10 types of burst effects presented by this fountain, including rain curtain bursts, jets, waltz, and rotating.

2. Lantern Garden

Visitors who come can enjoy the beautiful lantern lights along the lantern park rides. The shape of the lantern is also many kinds, ranging from flowers in bloom, peacocks, rabbit garden, and lanterns in the form of mushroom houses. Small children can be sure to be very happy and interested in being in this lantern park.
There are also Colloseum-shaped lanterns that show the characteristics of a particular country. In addition, there are also historical buildings.

To complement the beauty of this lantern garden, there is also a lighting tunnel designed like a hallway shape and equipped with a lot of light from the stunning LED lights.

Accompanied by the sound of music with a smooth rhythm adds to the atmosphere becomes more romantic. One of the rides that is almost similar to the fairyland is a favorite of visitors.

3. Dinosaur Park

In Malang night paradise, Malang, East Java, visitors can also enjoy dinosaur park rides. There are many replicas of different types of dinosaurs with a height of almost 6 meters that can move in this park. There are about 12 replicas of dinosaurs in this park. Starting from tyrannosaurus rex, triceratops, liopleurodon, to pterosaurus.

Not only that, there are also dinosaur eggs that can be used as a photo spot for visitors. In addition, this park is also suitable as an educational area for visitors who bring children. There is a science center area that contains the history and introduction of dinosaur species in its time. This dinosaur park is the largest and first in East Java Province.

There are also excavation sites equipped with replicas of the work spaces of paleontologists in the park. This replica of the dinosaur was also given a response system to look like life. If any visitor approaches the dinosaur will respond by winking or turning.

4. Magic Journey

Visitors will be invited to go around or around the river by boat through the alleys. There are about nine alleys that will enter each visitor. In each hallway there are different themes and ornaments. These nine thematic alleys include, Jungle, Magic House, Flower Garden, Venetian City (Italy), Avatar, Borneo Island, Thailan, Japan, and the last Lighting Tunnel.

In each theme lorog comes with a variety of lights with beautiful lights and there are sound effects according to the theme. Circling the river on this magic journey is like combing the Chao Phraya river in Thailand. Visitors will be amazed and amazed by all the views presented by this attraction.

5. Robotic Twister Ride

There are also additional rides that can be enjoyed by every visitor who comes. This robotic twister ride is a ride equipped with virtual reality or VR technology. Visitors will be given virtual reality glasses that will be used during the rides.
The sensation given by this ride is quite extreme so children are not very recommended. Visitors will feel like they are on a roller coaster that can trigger adrenaline.

6. Mini Pendulum Ride

Visitors who love challenging games can enjoy the mini pendulum rides. This ride is a swing that rotates at a fairly high speed. This will certainly make the heart seem to want to jump out.
The age limit for riding this ride is 15 years old with a minimum height of 150 cm. This ride is perfect for people who like challenging things. So for those who are afraid of challenging rides do not try this ride.

7. Fun Clown Rides

This ride is also almost the same as the mini pendulum, which is equally challenging adrenaline. The capacity of this ride accommodates about 8 people for one play. Visitors will be seated in each available seat and will be flipped over at high speed. Not only in the back and forth, but the visitors will be up and down and somersaulted.

A vacation in malang night paradise park in Malang, East Java with Travellora Tour, will certainly leave an unforgettable fun. Especially if the holiday is with family, close relatives or even couples. Spending a night in a beautiful and spectacular park will certainly make it a different sensation.