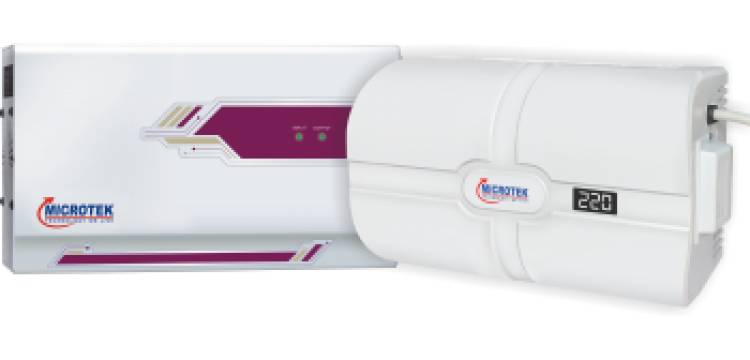 Say "Ta-ta" To The Imperfection In Voltage, Install A Microtek Voltage Stabilizer For Home Instead
Voltage fluctuations are an extremely prevalent and dangerous problem that can put your home appliances, industry's machinery, property, family members, and workers in jeopardy. As a result, it's critical to figure out a strategy to keep these voltage swings under control so you can run your appliances without the worry of a power outage or mechanical malfunction. For your home, a mainline voltage stabilizer and for industry, a Servo Voltage Stabilizer is a godsend. This is because they employ cutting-edge electronic and best in class technology to manage voltage fluctuations and provide high-end safety to your home and industry's man and material. It has proven to be a boon for all electrical gadgets that require a constant level of power to perform properly.
Home Use - The Mainline Stabilizer in Action
The stabiliser is connected to your home's main power supply and your household appliances. This product is meant to smooth out any voltage variations from the main power supply and ensure that the gadgets receive a continuous supply. It delivers a consistent supply of electricity within the functioning range of your device. This reduces the risk of damage from overloading and extends the life of all household appliances.
A Few Points to Consider When Choosing a Mainline Voltage Stabilizer for Your Home
Check the device's voltage, current, and power rating

Consider the power for all appliances that will be connected to the stabiliser

A stabilizer's working range is determined by the level of power fluctuations in your area
The following are some of the advantages of having a voltage stabiliser for home:
Ensures Safety: Electricity is a critical requirement for the smooth operation of our household. A voltage stabiliser guarantees a safe and secure power source for gadgets to perform properly in any location.

Efficiency in Adverse Conditions: Uneven voltage supplies can cause a variety of issues. A voltage stabiliser is required for the smooth and consistent operation of equipment, and it assists in maintaining voltage. Even amid voltage variations, it maintains a steady voltage to a load.

Protect Appliances from Lasting Harm: Each device demands a different degree of voltage, and frequent or repeated voltage fluctuations can cause permanent damage to the equipment. A

voltage stabiliser

prevents this from happening and ensures that the gadgets get the electricity they need. It works as a protective shield, lowering the likelihood of a malfunction.
Servo Voltage Stabilizer For Industrial Use
The Servo Voltage Stabilizer guarantees that the appliances receive steady power to ensure efficient operation and productivity. It protects the gadget from a power outage or voltage fluctuations, allowing it to function normally for an extended period of time without causing a problem. These stabilisers are sophisticated enough to perform efficiently in all working conditions because they are based on superior technology. These stabilisers work wonders for electrical equipment since they automatically adjust voltage swings. These also provide a protective shield around your gadget, preventing it from being harmed by a voltage change or a power outage.
These devices may even be able to manage power tripping in order to provide steady power to the electrical appliances to which they are attached. These may operate on the voltage addition or subtraction concept. Furthermore, they take up the least amount of room and are capable of working in any environment. These can protect not only your plant and property, but also your employees from sparking or accidents. This device includes a servo motor, diode, filter, transistor, transducer, earthing resistor, and other components that help the stabiliser deliver total voltage stability.
You don't want to be bothered by voltage fluctuations, do you? Don't you want to be sure that your appliances and the people around them are safe? Don't you want to lower your breakdown appliance repair and maintenance costs? If you answered yes to all of these questions, what's holding you back? A Microtek Voltage Stabilizer is the ideal solution for resolving all of the aforementioned issues without burning a hole in your pocket. Make a buy after exploring different voltage stabilizer for home.